Some big announcements today--relative to recent announcements, anyway. But first, to sum up:
On Saturday, the honorable
Kurtis Scaletta
alerted me to the fact that local YA author
Swati Avasthi
was reading at the Loft from her just-released debut SPLIT. I went to the reading. It was fantastic. I'm not far into the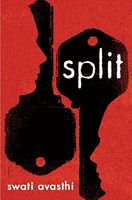 book yet, but so far it's superbly and vividly written. Great voice, serious subject matter handled well. I recommend it! Of course, I got my new copy signed by the author while I was there and we chatted a bit. It's nice to live in a town (err, twin town) with such a strong community of writers for young people. In fact, I'm at the Loft right now. My class begins in 90 minutes or so.
What have I been doing down here all afternoon? Well, I've finished my first read-through of YA MS the Second, and it . . . wants for much, let's say. I like it, mind you. I really do. It's even okay in some places where I thought it was utter garbage. But there's this one interesting character in particular who literally vanishes after page like 15, never to return. I ask you: wtf.
Okay, so, on to fun announcements. I'm nearly ready to end the signed ARC contest, but I'm going to give one more chance to enter, and this one will be the biggy--LOTS of chances for entries, such that previous entries will seem like chicken feed, kind of like that bonus round on the Family Feud. Watch for details on that in the next few days.
And finally, BEA! I'll be there, signing on Wednesday late afternoon. But even more exciting is the Carolrhoda LAB big event on Monday night. It's a swanky, invite-only affair, and I'll be (gulp) at the front of the room waxing intellectually with the AE. What, me worry?